This year I was pretty confident I'd sussed the New Year's Resolution thing. Aim low. Keep it simple and achievable. Anything weightloss/diet related – doomed to fail almost immediately if my previous 25 year track record was anything to go by. Gym memberships –   might as well save the hassle and just burn a few notes. In fact anything more ambitious than wash, dress, keep everyone alive warranted a degree of doubt.
Feeling pretty confident about this year's resolution I decided to invest (a whole £4.50!) in a sexy piece of kit bound to guarantee success.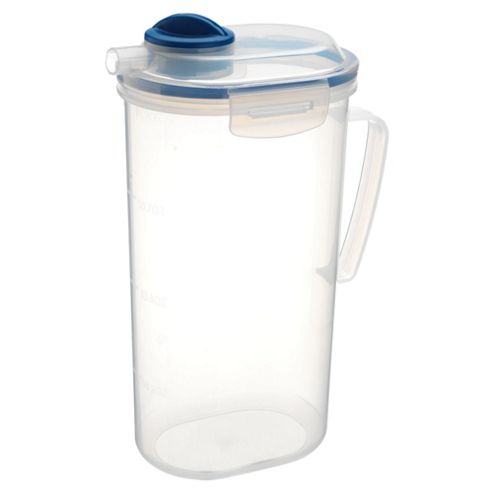 What do you mean it's not sexy? It's Tupperware! Look it's got clippy bits and twisty bits and everything! OK, so it's no Cumberbatch but I was quite excited with my new purchase and the prospect of the great times we had ahead of us, all plump skinned and sharp minded. Yes I was simply going to DRINK. MORE. WATER.
Easy as that, fill her up in the morning and off I go, happily sipping my 2 litres throughout the day. Which I did, for a week. Then things went slightly off plan where most days I'd either pour a glass and just about manage to get through that or forget to drink any then begrudgingly gulp a couple of glasses down before bedtime leading to the 3am 'OMG I'm desperate for a wee but I'm SO tired, maybe I can hang on for 4hrs' thing. Last time my trusty Tupperware friend saw the light of day was for a couple of hours at Flump's birthday party, so not a total waste of £4.50.
How ironic then, that exactly halfway through the year I was invited by Robinson's for a kick up the bum talk on the importance of the wet stuff as part of their Enjoy Drinking More Water campagne. While the kids were entertained by staff at the beautiful WWT London Wetland Centre venue, the gorgeous Helen Bond (Registered Dietitian and living proof of the drinking water = glowy skin and sparkly eyes theory) explained just how much our bodies need water in order to function, kids even more so!
We all know we should be getting more H2O into us on a daily basis, I'll admit I'm shockingly bad at this at the best of times but especially when it's cold outside! My kids put me to shame really, glugging bottles of the stuff throughout the day and even taking water to bed with them every night. Naughty Mummy.
I shall be entirely grateful to Helen for debunking, once and for all, the myth that tea/coffee dehydrates the body – it doesn't, woo and indeed hoo, I am not destined to live my life as dehydrated as Tim Peake's next meal. Phew.
Obviously there was an array of Robinsons squash flavours to try (I didn't even know apple squash was a thing, but I like it!) and we left laden with the good stuff to enjoy at home- yay! (N.B. as upper body workouts go, hauling litre bottles of squash around every kind of London public transport you can imagine, is hard to beat.)
Thank you to Robinson's and the staff at London Wetland Centre who invited us to be part of this event, with the importance to 'drink up' fresh in my mind, some lovely (sugar-free!) squash to pimp my drink and the help of my two new mates here I'm quietly confident that Resolution Revisited:Return of the Jug will be a roaring success!